Does your organization need to educate the public on an important issue? If so, then you need
educational comics
as part of your education and awareness-raising strategy.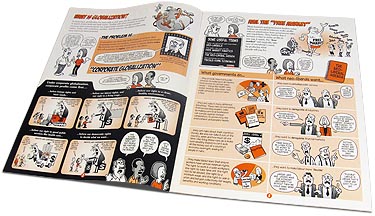 Educational comics are easy-to-read educational materials that combine simple, readable text with bold, critical cartoons and other graphics to make complex issues more palatable for the average reader.
For both highly literate and less literate readers alike, these materials are fun to read — even if the topic is grim.
And that's the key. If it's easy and fun to read, people are more likely to take an interest in it, understand it, and get involved in the issue.
Contact me if you or your organization are interested in creating unique and effective educational comics to help disseminate your message.